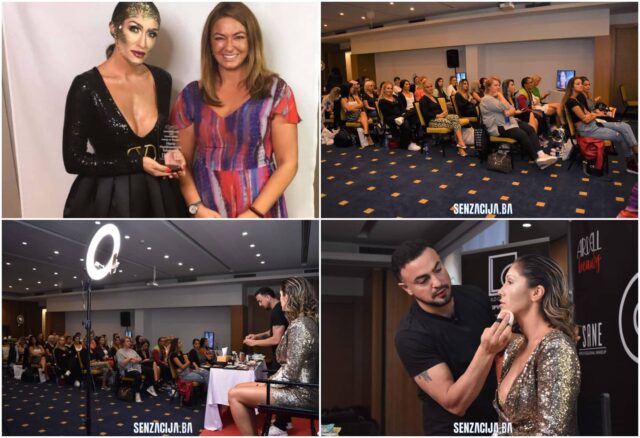 U Sarajevu je nedavno održan trodnevni master class, na kojem je svoje znanje nesebično dijelio vrhunski make-up stručnjak David Arbid iz Libanona.
Inače, David je 2007. godine postao svjetski trener i viši make up artist za Make up For Ever, a od 2013. godine je na poziciji svjetskog edukatora i direktora za razvoj umjetnosti.
"Nikad ne odustaj i samo nastavi dalje", rečenica je koja Davida vodi na put za ostvarenje snova, a njegov cilj je vrlo jasan – podučavati make up artiste širom svijeta i prenijeti im metod "znam kako".
Imao je priliku obići 42 zemlje širom svijeta, kako bi trenirao make up artiste. Ovog puta je u svojoj misiji, po prvi put stigao i u Sarajevu.
Na ovom master classu koji je organizovao Lilo cosmetics, prijavilo se 70 učesnika. Svaka od njih je, kaže David, bila spremna naučiti nešto potpuno novo.
"Seminar je radnog karaktera i mnogo dobrih vizažista je danas sa nama i zaista ima mnogo kvaltetnih radova… Moj cilj je da prenesem znanje i pokažem drugačiji način koji briše granice između make up-a i umjetnosti i iskreno se nadam da će poslije ovog seminara, make up artisti u BiH postati još smjeliji i usuditi se raditi ovakve stvari , pokazati svoj talenat, hrabrost, samouvjerenost i praviti prave čarlolije na licu jedne djevojke", istakao je David koji je radoznalim sarajevskim make up artistima odabrao posebna 4 looka koji su spoj francuske profinjenosti i orijentalne mistike.
LOOK 1
The modern BRIDE 
"Neka buduće mlade budu više od žene u bijelom. Modern Bride look nosit će samosvjesne žene koje će vam pružiti priliku da krenete korak dalje i napravite pravu čaroliju na njihovim licima i pokazati novu dimenziju ljepote".
LOOK 2
The ARTY 

"Savršen look za Instagram i modne editorijale. Tehnika koja će make up majstore uvesti u svijet umjetnosti. Look koji će voljeti fotoaparati, za fotografije koje će govoriti. Boja, žive linije, igra svjetlosti… a sve to u jednom look-u"
LOOK 3
The Glow day and night 
"Idealan look za sjajne make up artiste, look koji će voljeti sjajne žene. Oživite lica tehnikom Glow za dan i za noć. Sunce na licu u dnevnoj varijanti, a mjesečina na licu u večernjoj varijanti. Kontrast boja i fuzija čestica svjetlosti ovaj look stavlja na sam vrh traženih vještina kod make up artista"
LOOK 4
The Oriental
Orijentalni look briše granice između make up-a i umjetnosti. Must have instagram look. Za makeup artiste koji svojom kreativnošću mogu stvoriti emocije na licu, pomjeriti granice stvarnog. Za vas koji žele kreirati i biti prepoznatljivi. Uđite u svijet orijentalne mistike.
.
.
.
.
.
.
.
 .
.
.
.
.
.
.
.
.
.
.
.
.
.
.
.
 .
.
.
.
.
.
.
.
.
.
.
.
.
.
.
.
.
.